4Hi Four Roller Cold Rolling Mill is frequently seen in steel strip processing plant, for the 4high Rolling mill has many advantages, 4hi rolling mill is simple in structure, only four rollers are 1 pair of work rollers and 1 pair of support rollers, easy to operate and maintain, widely used for Steel strip rough rolling, tandem rolling, copper strip rolling, aluminum foil rolling, stainless steel strip rolling. Therefore, we should know every sides of the 4High Cold Rolling Mill
Metal plate Rolling Mill reduce metal plate thickness uniformly by rolling, also called "plate thickness reducing mill".
The rolling tools are cylindrical rollers, in line with composition and structure of roller system which are for metal plates of different materials uniform thickness reducing, we see 2High, 4High, 6High, 8High, 12High, 20High Rolling mills.
Generally speaking, 2High Rolling mill usually for rough rolling stage, the most frequently seen is 4High and Six High Mill. The high precision thin sheet rolling will require 8High and more rollers mill.
We design rolling mill in accordance with customers raw metal materials, finished plate specification and tonnage production of rolled plates, huge production needs tandem rolling mill, interim annealing probably is required.
Composition of 4High cold rolling mill:
The automatic 4 High cold rolling mill,either one way or reversible, is composed of decoiler(recoiler), entry processing table, 4high rolling mill, exit processing table, recoiler. The rolling mill model is mainly categorized by mill width, the wider, the mill model bigger.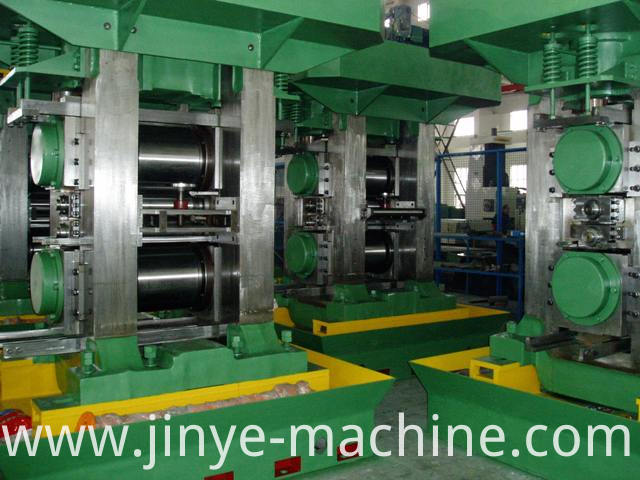 Features of 4Hi mill
1. suitable for rolling carbon steel, stainless steel, special steel, copper, aluminum strips, etc
2、two work rollers and two backup rollers, drive on work roller or on backup roller
3.press-down type: normal double grades worm gear & screw rod press down or hydraulic AGC
4、Hydrualic work roller bending: can adjust roller convex degree and contact between rollers easily, thus output good flatness of CR strips.
5、Simple structure of less components, easy to be adjusted and maintained.
6、Hydraulic AGC 4Hi mill is high precision
7. DC motors are controlled by 6RA80 series digital DC driver,the mill line is controlled by PLC
4Hi rolling mill specification
Model
strip width
entry gauge
finished gauge
transmission
Rolling force
rolling speed(m/s)
mechanic AGC
Ф140/450x450
250-350
1-2
0.2-0.6
work roll
300T
1-3
4-6
Ф175/450x450
250-350
2-3
0.3-1.0
backup roll
300T
1.5-4
4-8
Ф140/500x500
300-400
1-2
0.2-0.6
work roll
400T
1-3
4-6
Ф180/500x500
300-400
2-3
0.3-1.0
backup roll
400T
1.5-4
4-8
Ф140/520x550
360-450
1-2
0.2-0.6
work roll
500T
1-3
4-6
Ф180/520x550
360-450
2-3
0.3-1.0
backup roll
500T
1.5-4
4-8
Ф165/600x650
450-580
1-2.5
0.2-0.6
work roll
600T
1-3
4-6
Ф200/600x650
450-580
2-4
0.3-1.5
backup roll
600T
1.5-4
4-8
Ф175/650x750
550-680
1-2.5
0.2-0.6
work roll
700T
1-3
4-8
Ф220/650x750
550-680
2-4
0.3-1.5
backup roll
700T
1.5-4
4-10
Ф180/750x900
600-800
1-2.75
0.2-0.6
work roll
800T
1-3
4-8
Ф230/750x900
600-800
2-4
0.3-1.5
backup roll
800T
1.5-4
4-10