Stainless steel coil strips thickness reducing mill has some unique features, such as bigger rolling force, dismantable solid coiling mandrel, etc
and more frequently see reversible SS strip Cold Rolling Mill for the reasons that: stainless steel strip reducing degree can not be as much as normal carbon steel, tandem stainless steel mills will be very costly.
Intermediate annealing for SS strip is often required, and annealing must be solution treatment in continuous annealing furnace at speed of around 40m per minute.
To clarify you more specially, we take 850 four roller (4 high) Reversible Cold Rolling Mill for stainless steel strip up to 750mm with hydraulic AGC configuration as example.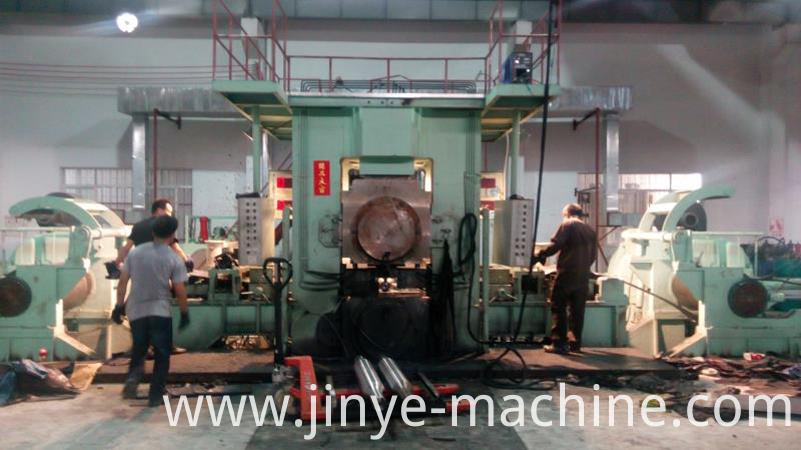 Work process of stainless steel strip reversible rolling mill:
Uncoiler, pinch feeder and 5 roller straightener, (Recoiler), 4 Hi Reversible Mill, Recoiler.
Stainless Steel coil parameters
Stainless steel material
200 , 300, 400 series pickled
Incoming SS coil strip
550-750mm x 0.65-0.80mm
Incoming SS coils
508mm ID, 1800mm OD, 15T
Cold rolled finished SS coil strip
550-750 x 0.30-0.45mm
Reverse Rolling mill parameters
Rolling mill speed
Max 230m/min, 40-60T/day production
Rolling force
Max 10000KN
Recoiling tension
Up to 80KN
Work roller spec.
Ф185 x 870mm
Backup roller spec.
Ф730 x 850mm
Main motor power
1100KW
Recoil motor power
630KW
Electric control
Hydraulic AGC, Siemens RA80 DC Drivers, PLC, X-ray Thickness Gauge system
Liquid conditions
Thin oil lubrication for gearboxes, oil gas lubrication for bearing seats, hydraulic stations, rolling process coolant system
Automatic roller changing
Hydraulic motor and cylinder drive, to realize automatic roller change
We can provide complete service of Stainless steel strip reducing plant,
here we would like to briefly introduce stainless steel strip continuous solution annealing furnace line.
Uncoiler with 22KW motor for threading, in normal production, is passive uncoiling with brake
Heat temperature about 1070°C under protection air atmosphere.
Heating furnace is composed of pre heating zone and hot heating zone, total about 25m length
S roll briddle unit at exit of furnace to pull stainless steel strip continuously out from furnace
Two recoilers, one is working and the other is discharging annealed SS coil and ready for next coil recoiling, to ensure non stop continuous working of the whole annealing line.

We designed and made some stainless steel strip rolling mill project and know well each detail of plant layout and note points, welcome customers to contact us!