As most popular Metal Slitting Machine, Precision steel coil splitting machine is customerized made. We design and make the Steel Coil Slitting Machine as per client's coming mother coils, slit baby coils specification, application of slit coils, precision of slitting and rewinding,etc.
We have supplied precision slitting machines to 50 countries, such as Russia, USA, KSA, UAE, Indonesia, Vietnam, Philippines, Pakistan, Algeria, Nigeria,...,
Take hot sale 3 x 1300 high precision fast Slitting Machine as example: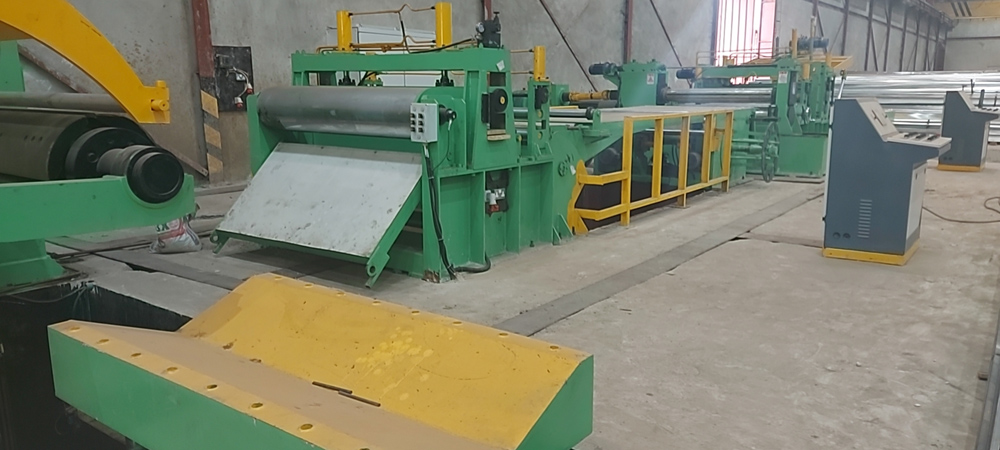 1. Steel coils to Slit:
Material of coils: low carbon steel Q235, galvanized plate, colored steel plate (GI、PPGI、CR、HR,etc)
Yield strength: ≤350Mpa, tensile strength ≤600Mpa
Strip thickness: 0.2~3.0mm
Strip width: 300~1300mm
Inner diameter of coils: Φ508mm
Outer diameter of coils: Φ1600mm.
Max. coil weight: 15000Kg
2. Slitting Line specification:
Slitting capacity: 0.2-1.0mm, max 30strips,max 100m/min; 1.0-2.0mm, max 20strips, max 70m/min; 2.0-3.0mm, max 15strips, max 50m/min
slit strip width: min. 21mm, slitter arbor 205mm, recoiler mandrel 508mm
Total installation power: about 250KW (preleveler 30KW AC, slitter 90KW DC, recoiler 110KW DC)
Land occupation: about 25m length, 9m width
3. Composition of the fast Slitting Machine:
Coil-loading——cantilever-mandrel uncoiling——Coil-end-feeding & shoveling——Double-roller pinch feeding/three-roller leveling/End-cutting----Hole Accumulator 1——Side Guide---Disk Rotary slitting——Scrap reeling ——Hole Accumulator 2——Pre-separator / Tensioner, deflector roll——Separating, Recoiling——Coils-discharging——Hydraulic control——Electric control