We know well what slitting lines steel coils processing plants want, thin gauge Slitting Line should be high precision high speed, the hot sale slitting lines 3 x 1250.
We have supplied 3mm x 1250 high precision slitting lines to Russia,Kazakstan, Indonesia, Philippines, Costa Rica, Colombia, Algeria, Nigeria,etc.
Specification of High Speed Precision 3 x 1250 slitting line:
1.Coil storing saddle: put coil ready on the saddle, coil car come under the coil and lift it up
2.Coil loading car: either floor type coil car or pit type, load coil onto uncoil mandrel.
3.Single mandrel uncoiler: hydraulic expansion mandrel for standard Ф508mm, and can install additional segments or rubber sleeve to uncoil bigger ID coils.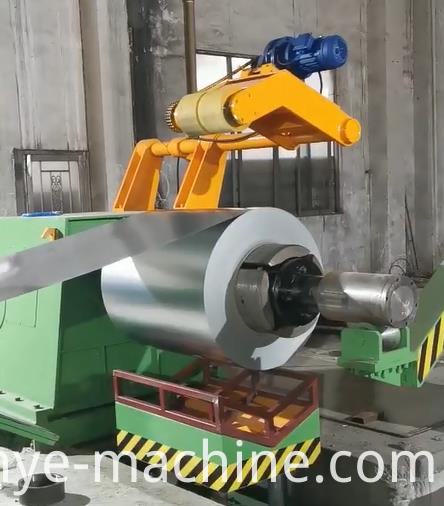 4.Coil head press roller, peeler shoveling plate: to open coill head and send the head into pinch feeder.
5.Pinch feeder, 3rolls Leveler, front shear: in threading send coil head forward to slitter, in automatic mode, synchronous with slitter continuously sending strip into 1# accumulator loop.
6.1# accumulator loop: hydraulic flapping plate as bridge to let thin sheet pass over during threading stage, in automatic mode, accumulate steel trip in loop pit to synchronize pinch feeding and slitting speed.
7.Press rollers and side guide: to horizontally and vertically guide steel strip on center of slitter.
8.Slitter: include a pair of parallel knife shafts, one moveable slitter stand, one fixed slitter stand, screw down mechanism, motor and transmission as well as high precision slitting tools.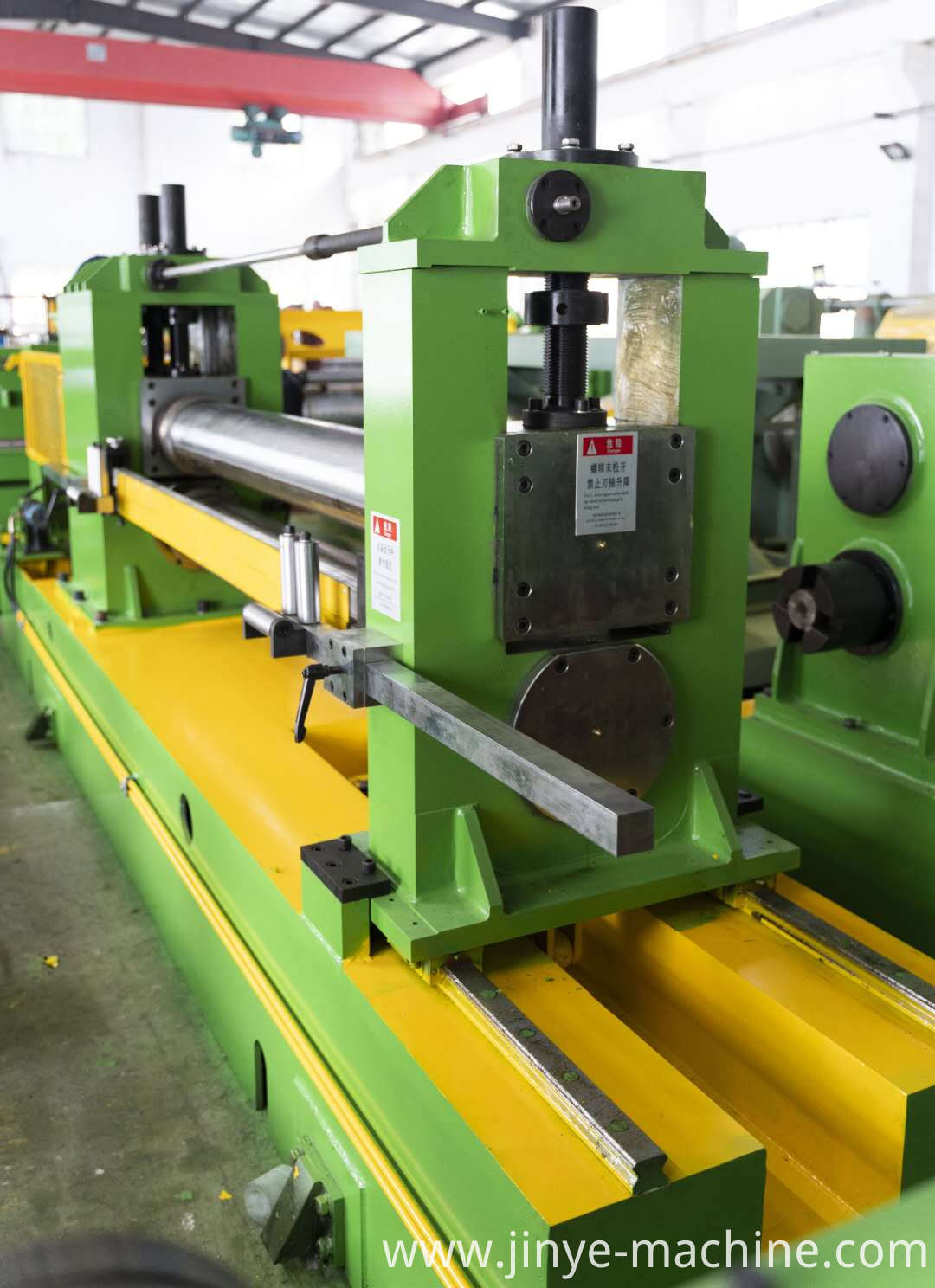 9.Edge scrap winder: wind up edge scrap, winding tension is provided by motor controlled by inverter.
10.2# accumulator loop pit: the same structure with 1# accumulator pit, to guarantee synchronous speed of slitting and recoiling, the slit strips never ever entangle in the loop.
11.Press rollers, Tension, post shear: press slit strips, hydraulic wool felt type or roller type tension provision of recoiling,cut strip tails flat
12.Pre separator and Deflector roller: before recoiling, separate steel strips in order and deflect strips to recoil mandrel gripper.
13.Separating overarm and recoiler: either seamless or open segments mandrel, coil strips up neatly
14.Coils Unloading Car: unload slit coils from recoil mandrel.
15.Hydraulic System: hydraulic power pack, valves, pipes and joints
16.Electric control system: Siemens PLC to control the slitting line working.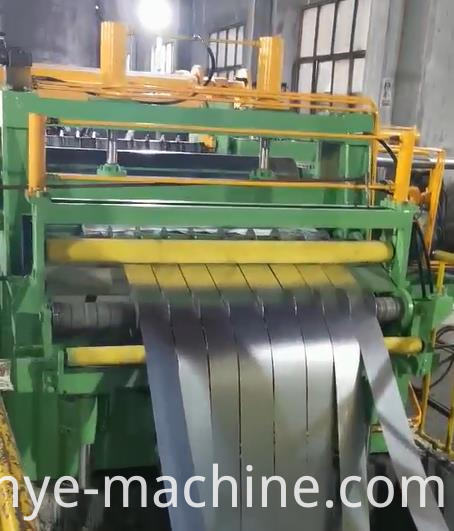 Parameters of High Speed Precision Slitting Line 3 x 1250:
Mother Coil
Slitting Number
Slitting Speed
Slitting precision
Tools
Power
Capacity
0.3-3mm thick
300-1250mm width
508mm ID
1600mm OD
15T weight
30strips for 0.3-1mm;
20strips for 1.0-1.5mm;
15strips for 1.5-2.0mm;
10strips for 2.0-3.0mm;
180m/min below 1mm;
120m/min 1-1.5mm;
100m/min 1.5-2.0mm;
80m/min 2.0-3mm
20-1350mm strips;
≤+/-1mm slit width,
coiling hump ≤0.5mm.
Knives: 6CrW2Si, SKD11, SLD
Spacers: 45# Steel
Cushion: rubber, PU rings
Nylon separator
16Mn separating discs
Total 300KW
Slitter 110KW
Coiler 132KW
30mins/coil x 15T coil,
8hours 240T