High Precision Stainless Steel Coil slitting Recoiling Line requires very strong structure and very precise manufacturing.
Composition and Characteristics of sts coil Slitting Line
1.Very Strong decoiler and coil opening press roller and peeler shoveling plate, to hold steel coil steadily in time of steel strip being pulled out, and send strip head into pinch feeding equipment.
2.Slitter: slitter stands, shafts, knives are bigger and stronger than normal slitter. Drive motor power is about 50% more than normal model slitter.
3.All transmission rollers are PU rubber coated to avoid STS sheet surface from scratch.
4.Accumulator pit loop is longer and deep enough to make sure steel strip accumulating.
5.Tension provision unit own both roller and wool felt to provide adjustable stable tension for recoiling.
6.Recoiler has portal frame type overarm separator, from top to press separating strips.
7.Slitting speed usually are limited within 80m/min.
8.Slitting knives will be special material H13K, SLD,etc.
9.Hydraulic system, such as hydraulic cylinders, valves, should be robust and more durable.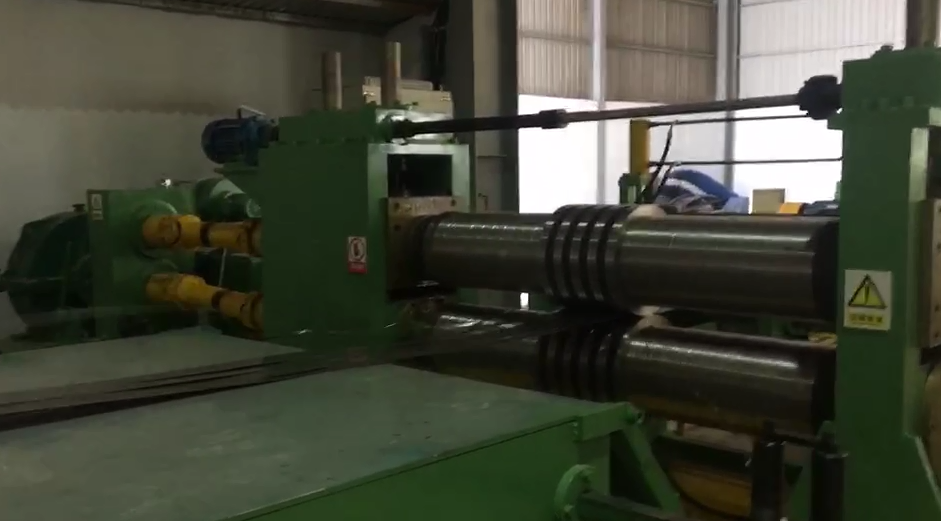 Parameters of 3 x 1600 Stainless Steel Slitting Line
Mother Coil
Slitting Number
Slitting Speed
Slitting precision
Tools
Power
Capacity
0.3-3mm thick
300-1250mm width
508mm ID
1600mm OD
15T weight
30strips for 0.3-1mm;
20strips for 1.0-1.5mm;
15strips for 1.5-2.0mm;
10strips for 2.0-3.0mm;
150m/min below 1mm;
120m/min 1-1.5mm;
100m/min 1.5-2.0mm;
80m/min 2.0-3mm
20-1350mm strips width;
≤+/-1mm slit width tolerance,
coiling hump ≤0.5mm.
Knives: 6CrW2Si, SKD11, SLD
Spacers: 45# Steel
Cushion: rubber, PU rings
Nylon separator
16Mn separating discs
Total 300KW
Slitter 110KW
Coiler 132KW
30mins/coil x 15T coil,
8hours 240T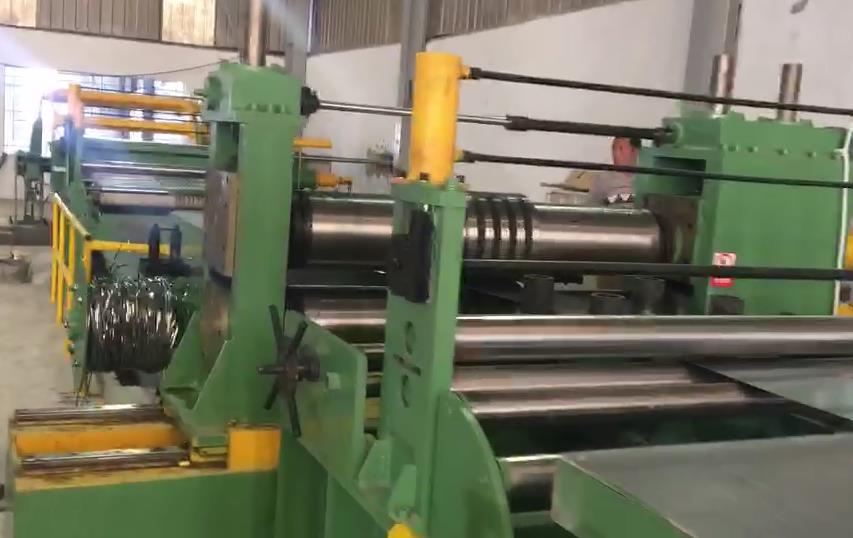 Stainless steel sheet is high quality steel, which requires high precision high quality slitting
Stainless steel, such as SUS200, SUS300, SUS400 series, compared with normal carbon steel Yield strength ≤270Mpa Tensile strength≤465Mpa, STS has better strength.


STS sheet surface is bright, should be well protected in slitting and recoiling process, the transmission rollers will be rubber coated.
SUS series
National grade
ASTM grade
TS(Mpa)
YS(Mpa)
200
Cr-Mn-Ni
12Cr17Mn6Ni5N
201
720
390
12Cr18Mn9Ni5N
202
680
356
300
Cr-Ni
301
755
275
0Cr18Ni9
304
680
320
00Cr19Ni10
304L
560
270
0Cr25Ni20
310S
655
310
00Cr17Ni14Mo2
316L
560
290
400
Cr
1Cr13
410
430
345
510
Layout of Stainless Steel Coil Slitting Line


Looking for ideal Stainless Steel Coil Slitting Line Manufacturer & supplier ? We have a wide selection at great prices to help you get creative. All the Precision Stainless Coil Slitting Line are quality guaranteed. We are China Origin Factory of Stainless Steel Slitting Recoiling Line. If you have any question, please feel free to contact us.