High Precision Reversible Cold Rolling Mill, different from Tandem Cold Rolling Mill, is Reversible Cold Rolling Mill and Automatic Cold Rolling Mill, is suitable for 1)high precision thin metal strip rolling 2) Annual prodution of Cold rolled metal product is various but not so much. 3)The investment of reversible cold rolling mill is less, popular in huge mill.
Features of high precision reversible rolling mill:
1) Metal coil strip materials can be carbon steel, stainless steel, copper, bronze, aluminum, nickle, silver, titanium alloy, etc.
2)The reversible rolling mill can be 2 high, 4 high, 6 high, 8 high, 12 high, 18hi, 20 high
3) Reversible cold rolling requires to and fro rolling in stable, uniform and precise status, the manufacturing precison of rolling mill must be good.
4)Thickness reducing control of reversible mill can be mechanic screw down or hydraulic AGC screw down, required by application, speed and precision of cold rolled metal
5). Two coilers sit each side of the reversible rolling mill while reducing thickness of metal coil strip, to provide coiling tension and wind
6)The drive motor of reversible mill rotate FWD or REV, automatically controlled by motor controller and PLC
We supply 450, 500, 650, 750 reversible cold rolling mills to Jordan, USA, Nigeria, in domestic market customer cases of different models for reference.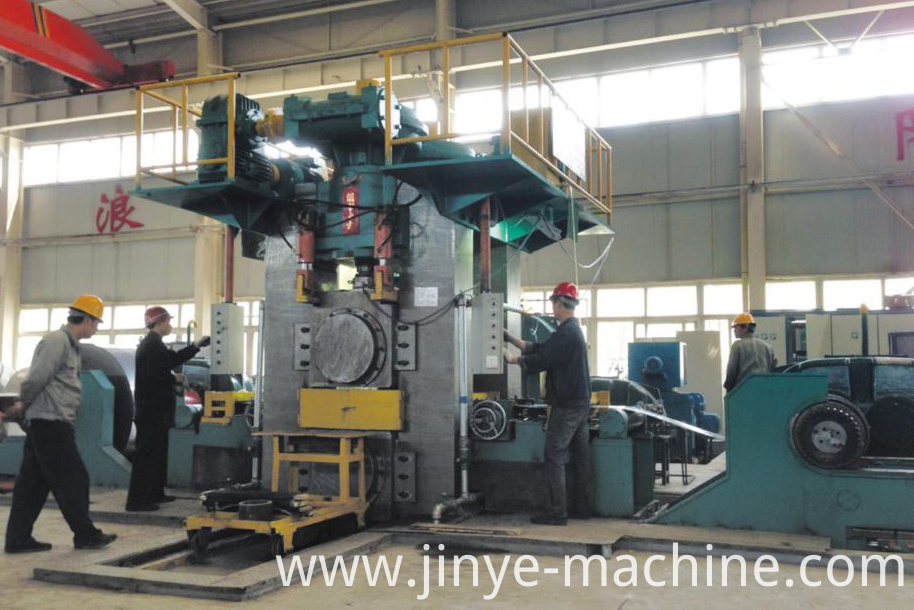 Example:
Ø205×750/Ø650×680 4-Hi cold rolling mill
1) Input material: low carbon steel HR pickled coils
Input steel strip: 2.0~3.0×500~650 mm
Inner diameter and outer diameter of steel coils: φ508/φ1600mm, max 8T
2) Finished coil after rolling:
Finished strip: thickness: (0.3~1.0)×(500-650)mm
3) Parameters of the 750 cold rolling mill:
Max rolling force:6500 KN
Rolling speed:max 240 m/min
Recoiling speed:max 240 m/min
Recoiling force:60 KN
Diameter of recoiling mandrel:max 508 mm , min. 495 mm
Height of rolling mill workline:950 mm
Total installation power:about 1400 KW